METAL 37 SPRING/SUMMER 2017 | COVER 2
€

12.00 On Sale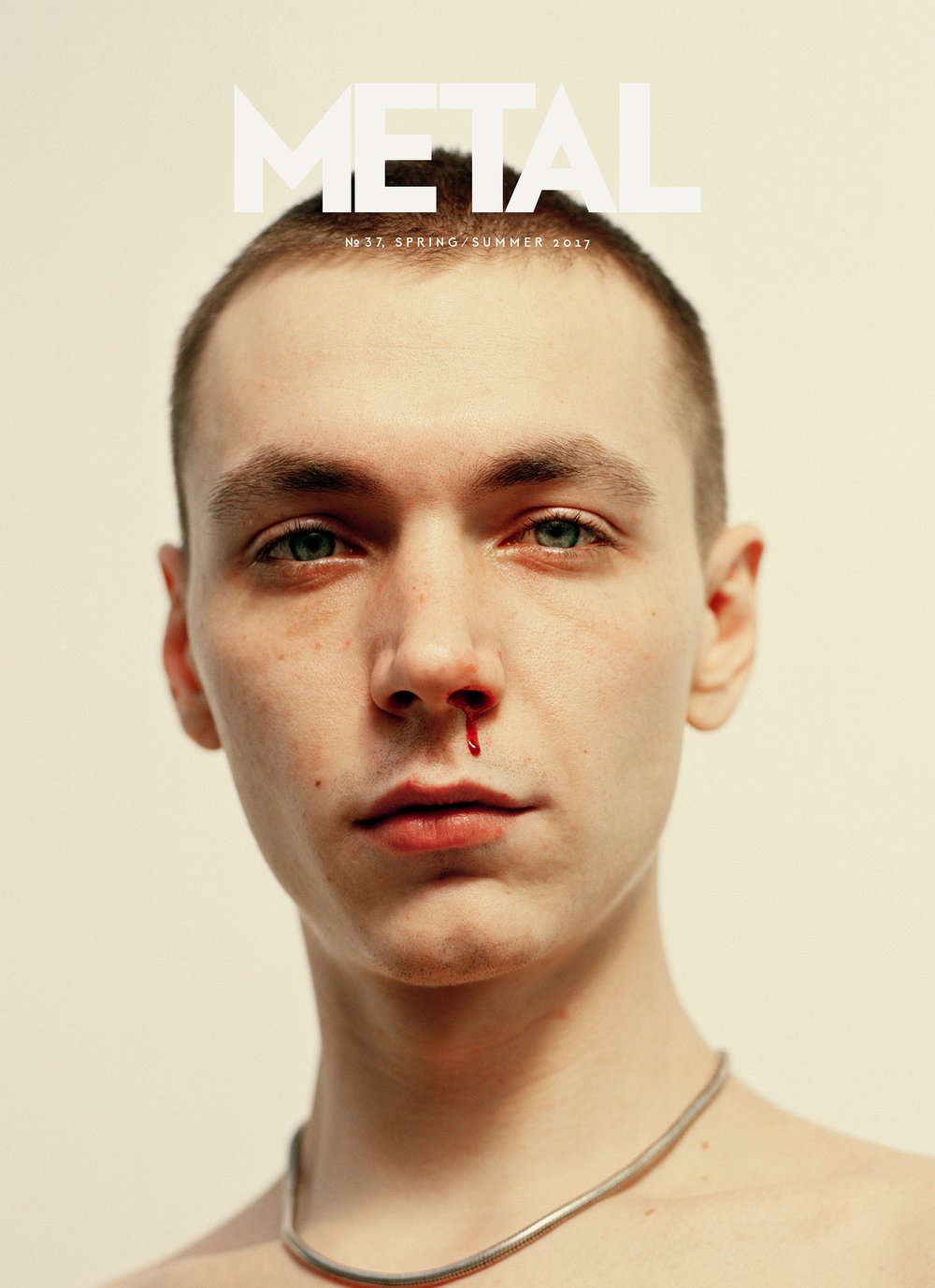 Remake the Past, Rethink the Present
We know, we haven't been very subtle. The eight covers of this issue are quite a statement – they unveiled our trick even before the game started. Let's be clear. Remaking, revisiting, reinterpreting: we all do it to some extent. Some call it inspiration, some others call it insolence. That awkward space between respect and temerity is where this issue emerged. The aim is to detail what is already a constant in any kind of creative universe. Revisiting as a method – or alibi – can be executed in brilliant, marvellous ways. Without going any further, Alessandro Michele at Gucci or painter César Santos, with whom we speak in this issue, are examples of it. In other cases, as in Vetements or Gosha Rubchinskiy, it can be a bolder, rather insolent expression. Many other times it is just painfully inappropriate.
Leaving our comfort zone is nothing new, but asking others to leave their own is unprecedented. Even if we knew it would not be easy, experience tells us that we have played with sensitive material. Is there any other way to speak about the act of looking back to the past other than making our own travel in time? This issue is a look back to the past through a curated selection of some of the most iconic images in fashion and the arts. It has been possible thanks to a selected bunch of enthusiastic allies that have done everything they could to revisit these icons in a way that feels accurate and loyal to certain degrees, fun, ironic, but always respectful. More often than not, their works have drawn a smile on our faces. It has been an amusing exercise, and personally an extremely enriching one, that has not always been understood in the same terms. Towards the end of the issue, Alba Riera wonders if those who revisit obvious references, if those who go back to previous ideas, concepts or aesthetics, are to be looked down upon. Instead, we wonder if it's possible to avoid such a process. Those who refused our proposal alluding to their creative nature, where do they go when they look for inspiration? What images do they use when they're creating their mood-boards? Would a thorough examination of their work bear no uncomfortable resemblance to the past? Probably it would. Yet we prefer considering ourselves innovative and novel instead of admitting that we're all fortunately corrupted by the talent and creativity around us. Obviously this issue brings it all to the extreme, we took this small licence.
Quoting artist Gavin Turk, whose words you will also find in this issue, probably someone will be wondering if not knowing the references beforehand will affect the experience of this issue. There are, of course, many layers to be read and each one's background, taste and knowledge will dictate their own experience. Still we hope that every single one of you can enjoy this issue as much as we did putting it together. At some point we even considered listing all the images that have served as inspiration. We decided not to do it in the end. In a way because so many of them are part of collective memory. But most importantly because of the way imagery is consumed today – we don't know where images come from, we don't mind about authors, we are not interested in knowing if they're referencing other images, we pretend names do not exist because everything can be found on the internet. The constant flow of images has made us insatiable visual hunters, constantly reposting in a loop that is becoming an infinite and confusing mass where no one can put a finger on a copy or an original any more. We are not claiming it's necessarily a bad thing, but we are far from accepting it as the best way to be appreciative. That's why we claim that each and every one of the images that are published in this issue – except for the fashion stories – are an outspoken recreate to preexistent images. If you want to know which ones and what images they're echoing, that is on you.
Thank you very much to all of you – those who have been part of this issue in one way or another. Creating this issue has been an incredible experience. And of course, our most sincere thank you to the photographers, the artists and creators that enlighten and inspire us with their work and encourage us to be and do our very best.
On this issue:
PHOTOGRAPHERS
Alessandro Raimondo, Alexandra Von Fuerst, Alice Rosati, Alice Schillaci, Amy Gwatkin, Ana Larruy, Andreas Karlsson, Anna Alek, Ben Lamberty, Biell Capllonch, Bruno Osif, Camila Falquez, Carlota Guerrero, Coco Neuville, Daniel Peter Schulz, Emmie America, Frankie Allio, Gabriela Celeste, Jana Gerberding, Jork Weismann, Kodai Ikemitsu, Lusha Alic, Masha Mel, Mehdi Lacoste, Nadia Lee Cohen, Nadine Ijewere, Niklas Heikkinen, Noel Quintela, Nhu Xuan Hua, Pizco, Poncho Paradela, Renate van der Togt, Rita Lino, Rosa Codina, Saty + Pratha, Steph Wilson, Sylvain Homo, Teddy Iborra Wicksteed, Virgina Arcaro, Wai Lin Tse, Winter Wanderbrik.
STYLISTS
Atip W, Audrey Taillée, Caroline Harbro, Damèse Savidan, David Herráez, Edem Dossou, Ekaterina Skurikhina, Emelie Hultqvist, Emilie Johansson, Francesca Pinna, Francesca Turner, Jeanie Annan Lewin, Jos van Heel, Juliana Schiavinatto, Lisa Jarvis, Luca Smorgon, Marcela Jacobina, Matt King, Mine Uludag, Monica Zafra, Natalia Paku Sukuda, Ogènda, Olivier Boivin-Carrier, PC Williams, Peghah Maleknejad, Rafaela Kacunic, Rike Hemedinger, Rogelio F. Burgos, Romina Herrera Malatesta, Rudy S. Betty, Shotaro Yamaguchi, Shotaro Yamaguchi, Soki Mak, Tess Yopp, Vincent Levy, Yasmina Benabdelkrim.
INTERVIEWS AND ESSAYS
Lee Swillingham & Stuart Spalding by Dal Chodha
Glenn Martens by Filep Motwary
Gavin Turk by María Muñoz
César Santos by Liucija Adomaite
David Crossman & Glyn Dillon by Raül de Tena
Mats Gustafson by Philippe Pourhashemi
Oliviero Toscani by María Muñoz
The Modern Pursue of Creativity by Alba Riera
—
Yuri photographed by Steph Wilson wearing necklace Pebble London.
Share